East Greenbush Farmers' Market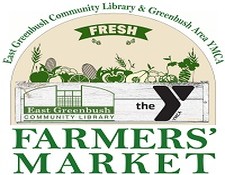 East Greenbush Community Library
10 Community Way
East Greenbush, NY 12061
GET DIRECTIONS ›
Open For Business:
Mid-June - first weekend in October
Wednesdays | 4 p.m. - 7 p.m.
The Farmers' Market at the East Greenbush Community Library and Greenbush YMCA started in 2014 to make the most of its largely rural population and nearby farms. The market offers 14 farms/vendors including a food truck with occasional musical entertainment. The market is certified to accept checks from WIC and the Farmers' Market Nutrition Program. The East Greenbush Library offers occasional family story times and programs during the summer months.
What can you find at our farm?
Annuals
Apples
Arrangements
Asparagus
Basil
Beans
Bedding Plants
Blueberries
Broccoli
Brussel Sprouts
Cabbage
Cantaloupes
Cauliflower
Collard Greens
Cucumbers
Eggplant
Garlic
Gourds
Greens
Hanging Plants
Honey
Indian Corn
Kale
Leeks
Lettuce
Maple Syrup
Mums
Onions
Parsnips
Peaches
Peas
Peppers
Perennials
Potatoes
Pumpkins
Radishes
Raspberries
Rhubarb
Spinach
Strawberries
Summer Squash
Sweet corn
Sweet Potatoes
Swiss Chard
Tomatoes
Turnips
Watermelon
Winter Squash
Other farms & markets near us...