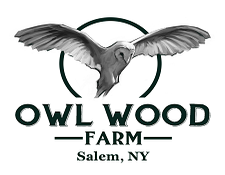 Owl Wood Farm
10 Winters Way
Salem, NY 12865
WEBSITE:

Visit »

CALL:

518-538-9467

EMAIL:
Open For Business:
Find us at the following farmers' markets:
Saratoga | Wednesdays and Saturdays
Cambridge | Sundays
Bolton Landing | Fridays
Owl Wood Farm is a small scale intensive operation producing a wide variety of vegetables, herbs and strawberries. We are certified Naturally Grown and use no synthetic herbicides, pesticides, fertilizers or GMO seeds. We do all the field prep, seeding, weeding and harvesting by hand. You can find our produce at farmers' markets and the Cambridge Co-op.
What can you find at our farms?
Basil
Beans
Beets
Broccoli
Cabbage
Carrots
Cucumbers
Eggplant
Garlic
Greens
Kale
Leeks
Lettuce
Onions
Parsnips
Peas
Peppers
Potatoes
Radishes
Strawberries
Summer Squash
Swiss Chard
Tomatoes
Turnips
Winter Squash
Zucchini
Other farms & markets near us...

1055 County Rt. 30
Salem, NY 12865

531 Bunker Hill Rd.
Salem, NY 12865

366 Carney Cassidy Rd.
Salem, NY 12865