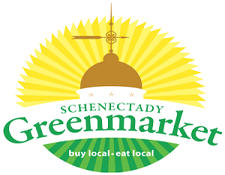 Open For Business:
May - October
105 Jay St., Schenectady, NY
Sundays | 10 am - 2 pm
November-April
Proctor's, 432 State St., Schenectady, NY
Sundays | 10 am-2pm
Schenectady Greenmarket is a place to buy fresh local produce and artisan goods in a festive community atmosphere. We are building a future in which Schenectady Greenmarket is an integral part of downtown's cultural landscape, connecting farm and city to create a responsible, sustainable food system.
What can you find at our farm?
Annuals
Apples
Arrangements
Asparagus
Basil
Beans
Bedding Plants
Beets
Blackberries
Blueberries
Bouquets
Broccoli
Brussel Sprouts
Cabbage
Cantaloupes
Cauliflower
Celery
Christmas Wreaths
Collard Greens
Cucumbers
Eggplant
Garlic
Gourds
Grapes
Greens
Hanging Plants
Honey
Kale
Leeks
Lettuce
Maple Syrup
Mums
Onions
Parsnips
Peaches
Peas
Peppers
Plums
Potatoes
Potted Plants
Pumpkins
Radishes
Raspberries
Rhubarb
Spinach
Strawberries
Summer Squash
Sweet corn
Sweet Potatoes
Swiss Chard
Tomatoes
Turnips
Vegetable Plants
Watermelon
Wine
Winter Squash
Other farms & markets near us...