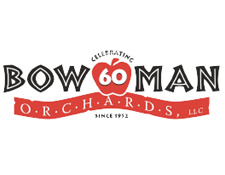 Open For Business:
May - November
6 days a week  |  9 a.m. - 5 p.m.
98 acres of freshly grown apples, peaches, strawberries, raspberries, blackberries, blueberries, plums, squash, pumpkins, gourds & much more!
We feature pick-you-own apples, berries and lots more!  Drive your way through the orchard and pick your desired fruit.  On you way out, stop and visit our store, bakery and kids entertainment area. Fresh homemade cider donuts, fudge, ice cream, cider and so much more!

We Are Pet-Friendly!
1. Pets must be on a leash at all times.
2. Pets cannot go in any buildings.
3. Clean up after your pets.
4. Any pets destroying property, off a leash, or a hazard to others will be asked to leave!
Loyalty Club Information:
Loyalty Club is designed for loyal and returning customers--it is just a little something extra special from us to say Thank You for your continued patronage to our family business!
Here are some advantages Loyalty Club card holders recieve:
~ email notifications
~ specials
~ discounts
~ discounts on entrance fees for berry picking
~ unique picking opportunities
~ and much more!!
sign up on our website for our loyalty club!!: www.bowmanorchards.com/.
What can you find at our farm?
Apples
Asparagus
Baked Goods
Beans
Beets
Blackberries
Blankets
Blueberries
Broccoli
Carrots
Cheese
Cherries
Cider
Cider Donuts
Cucumbers
Dog Treats
Eggplant
Elderberry Syrup
Gourds
Grapes
Hanging Plants
Honey
Ice Cream
Indian Corn
Jams & Jellies
Lettuce
Maple Candies
Maple Cream
Maple Sugar
Maple Syrup
Mums
Onions
Peaches
Peas
Pickles
Plums
Popcorn
Potatoes
Pumpkins
Radishes
Raspberries
Raw honey
Rhubarb
Salsa
Sauces
Strawberries
Summer Squash
Sweet corn
Sweet Potatoes
Tomatoes
Trees
Winter Squash
Other farms & markets near us...