Lansing Farm Market & Greenhouses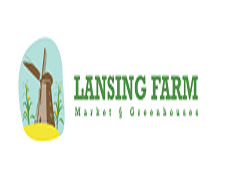 Open For Business:
We are open May through November seven days a week.
M, W, F 9 a.m.-7 p.m.
T&TH 9 a.m.-6 p.m.
Sat 9 a.m.-5:30 p.m.
Sun 9 a.m. -5 p.m.
We are a highly productive 20-acre family owned and operated farm in Colonie, NY along the Lisha Kill stream near the Niskayuna town line. Our farm provides welcome open space for the community with rows of flowers, fruit trees, berry bushes and lush fields. We operate a farm market stand selling homegrown and local produce, scratch made soups and baked goods, apple cider donuts as well as other local products. In addition to our farm stand, we have greenhouses with bedding plants, annuals, perennials and mums. We also run a 100 member Community Supported Agriculture (CSA) June - October.
Our family is inspired by the generations who came before and are passionately devoted to sustaining the Lansing legacy into the future.
What can you find at our farm?
Annuals
Asparagus
Bacon
Baked Goods
Basil
Beans
Bedding Plants
Beets
Blackberries
Blueberries
Bouquets
Broccoli
Brussel Sprouts
Cabbage
Cauliflower
Celery
Chives
Cilantro
Collard Greens
Cucumbers
Dill
Eggplant
Gourds
Greenhouse Plants
Greens
Hanging Plants
Jams & Jellies
Kale
Lavender
Leeks
Lettuce
Maple Syrup
Mint
Mums
Nursery plants
Onions
Oregano
Parsley
Peaches
Peas
Peppers
Perennials
Pickles
Potted Plants
Pumpkins
Radishes
Rhubarb
Rosemary
Roses
Salsa
Sauces
Spinach
Summer Squash
Sweet corn
Swiss Chard
Thyme
Tomatoes
Turnips
Winter Squash
Other farms & markets near us...

147 Sugarhill Rd.
Rexford, NY 12148

Schenectady City Hall
Franklin St. & Jay St.
Schenectady, NY 12305

105 Jay St.
Schenectady, NY 12305