Schenectady Farmers' Market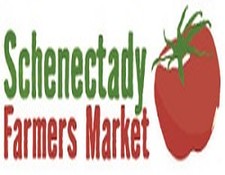 Schenectady City Hall
Franklin St. & Jay St.
Schenectady, NY 12305
GET DIRECTIONS ›
Open For Business:
May - October
Thursdays | 9:30 a.m. - 1:30 p.m.
Long running farmers market in the heart of downtown Schenectady outside City Hall on the corner of Jay and Franklin Streets. Open rain or shine every Thursday from 9:30 am until 1:30 pm from May through October. Approximately 15 vendors selling fresh, locally grown fruits, vegetables and other hand-made products. Plenty of free parking in nearby lots or short-term on-street parking. Visa, MasterCard debit/credit and SNAP/EBT benefits accepted. Market participates in FMNP and Fresh Connect programs and is a distribution location for Senior FMNP coupons. Proud member of the Farmers' Market Federation of New York.
What can you find at our farm?
Arrangements
Asparagus
Basil
Beans
Bedding Plants
Beets
Broccoli
Brussel Sprouts
Cabbage
Cantaloupes
Cauliflower
Celery
Collard Greens
Cucumbers
Eggplant
Garlic
Gourds
Grapes
Greens
Hanging Plants
Honey
Indian Corn
Kale
Leeks
Lettuce
Maple Syrup
Mums
Onions
Peaches
Peas
Peppers
Perennials
Plums
Potted Plants
Pumpkins
Radishes
Raspberries
Rhubarb
Spinach
Strawberries
Summer Squash
Sweet corn
Sweet Potatoes
Swiss Chard
Tomatoes
Turnips
Watermelon
Wine
Winter Squash
Other farms & markets near us...