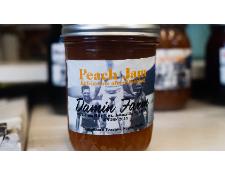 Open For Business:
Daily year round 9am-6pm
Damin Farm is a second-generation farm in the Mohawk Valley. We raise angus-cross beef, pork, and chicken throughout the year. Seasonally, we grow vegetables, fruits,nuts, and lots of sweet corn!
Damin Farm supplies its on farm store with foods from the farm. We use our homegrown foods to create many different kinds of jams and jellies, all sorts of pickled foods, 5 different kinds of sauerkraut, several flavors of fruit syrups, maple syrup, as well as 7 varieties of hot sauces. Every food is processed here in the commercial kitchen.
What can you find at our farm?
Apples
Apricots
Asparagus
Bacon
Basil
Beans
Beef
Blackberries
Blueberries
Broccoli
Brussel Sprouts
Cabbage
Cantaloupes
Carrots
Cauliflower
Celery
Cherries
Chicken
Chives
Christmas Trees
Cilantro
Cucumbers
Dill
Eggplant
Eggs
Elderberries
Elderberry Syrup
Garlic
Gourds
Grapes
Hay
Indian Corn
Jams & Jellies
Lavender
Leeks
Lettuce
Maple Syrup
Mint
Onions
Oregano
Parsley
Peaches
Pears
Peas
Peppers
Pickles
Plums
Potatoes
Pumpkins
Radishes
Raspberries
Raw honey
Rhubarb
Rosemary
Salsa
Sauces
Spinach
Strawberries
Summer Squash
Sweet corn
Swiss Chard
Thyme
Watermelon
Winter Squash
Other farms & markets near us...

144 Church St
Saint Johnsville, NY 13452

6193 State Highway 29
Saint Johnsville, NY 13452