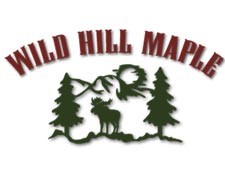 Open For Business:
Please call ahead.
Here at Wild Hill Maple, Syrup is our passion. Since 2002, we've been producing award-winning, pure New York maple syrup, and several of its products. We've been blessed with some of the best sugar maple groves mother nature has to offer, and we believe the results can be experienced in our products. Call and arrange a visit- and taste for yourself!
Wild Hill Maple welcomes visitors each year during the New York State Maple Open House Weekends where tours are given of the Wild Hill facility. And children (of all ages!) can even make their own piece of maple candy in the Wild Hill Maple kitchen! Also available 7 days a week, year round; call to arrange a visit!
What can you find at our farm?
Maple Candies
Maple Cream
Maple Sugar
Maple Syrup
Other farms & markets near us...

1055 County Rt. 30
Salem, NY 12865

531 Bunker Hill Rd.
Salem, NY 12865

10 Winters Way
Salem, NY 12865