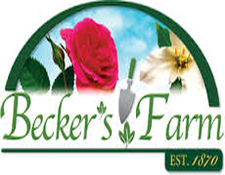 Open For Business:
7 days a week | 8 a.m. - 4 p.m.
Extended hours during May and June.
Becker's Farm, Rensselaer County's premier garden center located in the town of East Greenbush, is brimming with color. Known for their large petunia baskets in an array of colors, Becker's Farm carries the most popular, newest and most unique varieties of plants. They have huge varieties of annuals, vegetables, herbs, perennials, roses, trees and shrubs that are popular favorites among beginners and master gardeners alike.
The staff at Becker's Farm pride themselves on excellent customer service and knowledge of garden plants and products. Many of the associates come from gardening and horticultural backgrounds providing customers with accurate information and insight. During the season, staff is available 7 days a week to answer your gardening and lawn care questions to help you choose the right plant for your home. They offer free soil testing with advice on how to amend your soil.
Bring in your planters, window boxes or other containers and they will custom plant them for your unique conditions and color preferences. They also have a wide selection of hardgoods, soil amendments, fertilizers as well as bagged and bulk mulch, soil, compost and stone. At Becker's Farm, they have the plants to brighten your world and make your home more enjoyable all season long. Offering a pleasant shopping atmosphere with personal service, competitive prices, and brimming with everything you may need for your garden.
David and Mark Becker are proud to continue the business which the family has owned and operated for 154 years. Thank you for your patronage and support, six generations and growing! Happy Gardening!
What can you find at our farm?
Annuals
Bedding Plants
Christmas Trees
Christmas Wreaths
Greenhouse Plants
Hanging Plants
Mums
Perennials
Poinsettias
Potted Plants
Shrubs
Tomatoes
Trees
Vegetable Plants
Other farms & markets near us...