Delaware Community Farmers' Market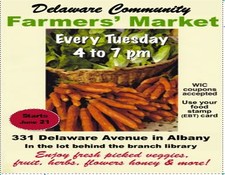 Open For Business:
July 2 - September 24
Tuesdays | 4 p.m. - 7 p.m.
Lively producer only market offers a variety of fresh produce farm products affordably. WIC coupons and EBT cards are welcome.
What can you find at our farm?
Apples
Basil
Beans
Beets
Broccoli
Cabbage
Collard Greens
Cucumbers
Eggplant
Garlic
Gourds
Greens
Honey
Indian Corn
Kale
Leeks
Lettuce
Onions
Parsnips
Peaches
Peppers
Perennials
Potatoes
Pumpkins
Spinach
Summer Squash
Sweet Potatoes
Swiss Chard
Tomatoes
Turnips
Watermelon
Winter Squash
Other farms & markets near us...