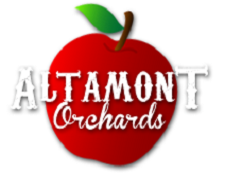 Open For Business:
Daily 9:30a.m.-6:00p.m.
From January to May, we are open Saturday 9:00a.m.-5:00p.m. and Sunday 12p.m.-4p.m.
Our Farm Market has grown over the years from the original 40' x 40' fruit stand in 1969, to a complex of over 18,000 sq. ft. This complex consists of Farm Fresh Fruit and Vegetables, Specialty Foods from throughout the Northeast, a Bakery featuring our famous Apple Cider Donuts, pies, breads, and pastries, a Gift Shop filled with Candles Seasonal gifts ( Christmas, Halloween), house wares and many more items for your shopping enjoyment. During September and October we host the Haunted Orchard House, Hayrides, and several special events during Apple Season. We also have a Greenhouse area featuring bedding and potted plants, hanging baskets, vegetable plants, soils, mulch and everything for your gardening needs during the Spring months. During the month of June, come to the Market to purchase freshly picked strawberries or come pick your own. Finally in late November and December we are a great place to find the family Christmas tree!
What can you find at our farm?
Annuals
Apples
Asparagus
Beans
Bedding Plants
Broccoli
Brussel Sprouts
Cabbage
Carrots
Cauliflower
Cider
Cucumbers
Eggplant
Greenhouse Plants
Greens
Hanging Plants
Lettuce
Mums
Onions
Peaches
Peas
Peppers
Perennials
Potatoes
Potted Plants
Pumpkins
Radishes
Rhubarb
Spinach
Strawberries
Summer Squash
Sweet corn
Swiss Chard
Tomatoes
Turnips
Vegetable Plants
Winter Squash
Other farms & markets near us...

2479 Western Ave.
Altamont, NY 12009

342 Altamont Road
Altamont, NY 12009