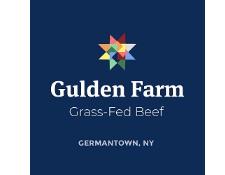 Open For Business:
Please call ahead.
Gulden Farm raises healthy, happy grass-fed beef. We strive to employ biodynamic regenerative farming techniques on 700 acres of farmland in the Hudson Valley. Our cattle and sheep play an important role in the natural biodynamism of our farmlands - grazing, fertilizing and working the land as herds of ruminants have done naturally for eons.
What can you find at our farm?
Other farms & markets near us...

1246 County Route 6
Germantown, NY 12526

113 Lasher Avenue
Germantown, NY 12526