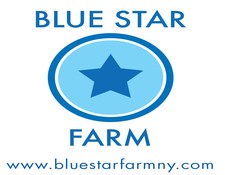 Open For Business:
You can find us at:
Hudson Farmers Market
May-November | 9:00 a.m. - 1:00 p.m.
Hudson Indoor Market
December, March-April | 10:00 a.m. - 1:00 p.m.
Blue Star Farm is located in Stuyvesant, NY in beautiful Columbia County. We are 3 miles east of the Hudson River and enjoy spectacular sunsets over the Catskill Mountains. We grow over 130 different varieties of vegetables, herbs and cut flowers. We farm in Stuyvesant and on rented land in Kinderhook, NY. Currently we sell at farmers' markets and wholesale. Great cooking starts with great ingredients and great ingredients start with great soil. At Blue Star Farm we are aiming for nutrient-dense foods through sustainable farming practices that enrich the soil, protect our water supplies and offer people healthier food choices. Our crops are herbicide and pesticide-free. We use compost, natural rock minerals and mulches to fortify the soils, along with crop rotation and green manures.
---
We are Certified Naturally Grown. To be granted the CNG certification, farmers don't use any synthetic herbicides, pesticides, fertilizers, antibiotics, hormones, or genetically modified organisms. Carrying out an inspection is an annual requirement of the CNG program.

CNG was born of a commitment to healthy food and healthy soils, and grew out of the belief that they could create something uniquely valuable to small farmers and the communities they feed. CNG was founded when the National Organic Program (NOP) took effect in 2002.

Their certification model encourages collaboration, transparency, and community involvement. Their programs are based on the highest ideals of organic farming, and the requirements are reasonable.
What can you find at our farm?
Asparagus
Beans
Beets
Broccoli
Brussel Sprouts
Cabbage
Cantaloupes
Cauliflower
Celery
Cucumbers
Eggplant
Garlic
Gourds
Kale
Leeks
Lettuce
Onions
Parsnips
Peaches
Peas
Peppers
Potatoes
Pumpkins
Radishes
Rhubarb
Spinach
Strawberries
Summer Squash
Sweet Potatoes
Swiss Chard
Tomatoes
Turnips
Watermelon
Winter Squash
Other farms & markets near us...

244 State Route 9J
Stuyvesant , NY 12173

U.S. Rt. 9 & Hudson St.
Kinderhook, NY 12106