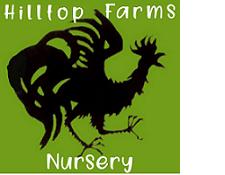 Open For Business:
We are an honor system farmstand open April-November 24/7.
Please call ahead December-March.
Hilltop Farms Nursery is a small family farm that uses organic practices to grow healthy herbs and veggies. We also raise chickens for meat and eggs as well as bees for honey and wax. In the Spring, we tap our maple trees and produce small batches of maple syrup. We grow Shiitake mushrooms on oak logs outside as well as oyster mushrooms indoors. We also offer a wide range of pesticide and chemical free vegetables, fruit and flower plants. In the Fall we offer a full line of colorful mums and pumpkins, in addition to an assortment of winter squashes and gourds.
"Growing naturally, so your body can too."
What can you find at our farm?
Annuals
Basil
Beets
Bouquets
Broccoli
Cabbage
Cantaloupes
Carrots
Chicken
Chives
Cucumbers
Dill
Eggplant
Eggs
Garlic
Gourds
Greens
Hanging Plants
Honey
Kale
Lavender
Leeks
Lettuce
Maple Syrup
Mint
Mums
Nursery plants
Onions
Oregano
Parsley
Peppers
Perennials
Potatoes
Pumpkins
Radishes
Rhubarb
Rosemary
Shrubs
Summer Squash
Sweet corn
Thyme
Watermelon
Other farms & markets near us...

112 Biitig Road
Averill Park, NY 12018

Poestenkill Town Hall
38 Davis Drive
Poestenkill, NY 12140