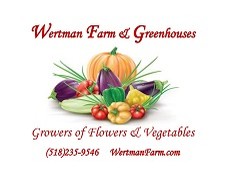 Open For Business:
The greenhouses open for retail May 1st and are open until we are sold out.
Hours are 9am-5pm Monday-Saturday and 9am-4pm Sunday. To order vegetables from the end of June through November, call or email us.
Wertman Farm is a 4th generation family-owned farm specializing in flowers and field crops located in Melrose, NY. We take pride in having some of the most unique hanging baskets along with other potted combinations, annuals, perennials, vegetable plants and herbs for your house and garden.
We grow and harvest many crops including sweet corn, peppers, yellow squash, collards, kale, cabbage, cucumbers, winter squash and pumpkins. We grow many varieties in all different sizes. We are a retail and wholesale farm selling to our fabulous customers and businesses.
You can follow us throughout the year on our website and Facebook!
What can you find at our farm?
Annuals
Bedding Plants
Cabbage
Cauliflower
Collard Greens
Cucumbers
Eggplant
Gourds
Greenhouse Plants
Hanging Plants
Indian Corn
Kale
Peppers
Perennials
Potted Plants
Pumpkins
Summer Squash
Sweet corn
Vegetable Plants
Winter Squash
Other farms & markets near us...