Wildthings Rescue Nursery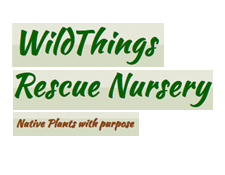 Open For Business:
Please call ahead.
We are growers, sellers and installers of native plants and gardens. We grow big healthy native plants grown from seed with no chemicals or pesticides. We love what we do and have a passion for helping local wildlife by supplying locally native plants.
We began rescuing plants many years ago, from logging sites. It was done legally, with the property owner's permission, because it was just too heart-breaking to see so many treasures being bulldozed under after all the cutting was done. Those plants were brought back to the property here and planted in the display and propagation beds. They are the great grandparents of many of the plants we grow and sell today.
It has been many years since we've done any rescues, but that is the name on the DBA and how we began. For the last 10+ years, all plants have been grown here in the nursery by me. I collect my own seed from my own plants and also take divisions from the beds.
We also occassionaly trade with fellow native plant enthusiasts, or purchase seed to be able to introduce new species into the gardens.
What can you find at our farm?
Bouquets
Nursery plants
Perennials
Potted Plants
Shrubs
Trees