Running Brook Sugar Shack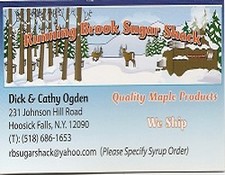 Open For Business:
Please call ahead.
We are a small maple operation, with approximately 1250 taps. We are completely family-owned and operated and we make every single product that we offer! We have been making maple syrup and products since 2001 and are quite established in our area. We offer our products at area Farmer's Markets, farm stands, several stores, as well as selling directly from our home. We do not currently have a website, but would love to hear from you by phone or email.
We do not have a farm stand but feel free to call or drive in and stop by. Farmers Market: Bennington, VT. Retail: Moses Vegetable Stand (Eagle Bridge), Adirondack Natural Foods (South Glens Falls). Festivals: Schaghticoke Fair, Labor Day Weekend. Shipping available.
What can you find at our farm?
Maple Candies
Maple Cream
Maple Fun Sugar
Maple Sugar
Maple Syrup