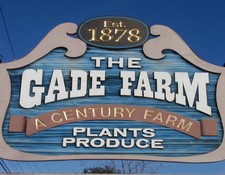 Open For Business:
Monday-Friday | 9 a.m. - 6:30 p.m.
Saturday | 9 a.m. - 6 p.m.
Sunday | 9 a.m. - 5 p.m.
The Gade Farm has been in continuous operation since 1878. We strive to provide quality, friendly service and have knowledgeable employees that are happy to assist you. We're also happy to help you load your car, whether it is plants or soil in the Spring or straw or corn stalks in the Fall. We offer custom plantings in the Spring and Summer- just bring us your pots (or choose on of ours) and we will plant it for you! We also do custom decorating for the Fall and Winter for your wreaths, centerpieces, boxwood trees, etc. Most people don't realize that we grow the majority of our plants right here in our own greenhouses- not shipped in from other places. Most of our annual packs are grown from seed, requiring transplant from the seed tray to the flat. All of this is done by hand! The plants that you see in our store in May started out in our seed house in February!! We have fields of fresh vegetables growing on our land (located behind the main store and greenhouses). We grow our own corn, tomatoes, lettuce, broccoli, peppers, squash, eggplant, herbs, and flowers (to name a few).
What can you find at our farm?
Annuals
Apples
Arrangements
Asparagus
Basil
Beans
Bedding Plants
Beets
Blackberries
Blueberries
Bouquets
Broccoli
Brussel Sprouts
Cabbage
Cantaloupes
Cauliflower
Celery
Christmas Trees
Christmas Wreaths
Collard Greens
Cucumbers
Eggplant
Garlic
Gourds
Grapes
Greenhouse Plants
Greens
Hanging Plants
Honey
Indian Corn
Kale
Leeks
Lettuce
Maple Syrup
Mums
Onions
Parsnips
Peaches
Peas
Peppers
Perennials
Plums
Poinsettias
Potatoes
Potted Plants
Pumpkins
Radishes
Raspberries
Rhubarb
Shrubs
Spinach
Summer Squash
Sweet corn
Sweet Potatoes
Swiss Chard
Tomatoes
Trees
Turnips
Vegetable Plants
Watermelon
Winter Squash
Other farms & markets near us...

6654 Dunnsville Rd.
Altamont, NY 12009

342 Altamont Road
Altamont, NY 12009