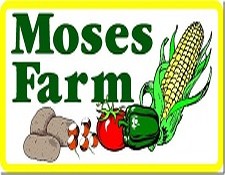 Open For Business:
Mother's Day Weekend - mid-November
The Moses name has been synonymous with quality vegetables for over 75 years. Our family started farming in the early 40's and several generations later, Moses Farm is owned and operated by Rich, Kathy and Seth Moses. It is a family business and we live on the farm. Rich is the great grandson of renowned Grandma Moses, whose paintings depicted the fertile farmland seen in Washington County.
Moses Farm produce is grown on 90 acres along the Hoosick and Owlkill Rivers in Eagle Bridge, NY. Spring is planting time on the farm when some 60,000 plants move from the greenhouse to the field. Our farmstand opens in early May, selling bedding plants and flowers, along with some greenhouse tomatoes, cucumbers, and salad greens. The first peas, cucumbers, and squash are ready for harvest in early June, followed by beans, new potatoes and Sweet Corn in early July. The tomatoes and peppers arrive next, along with the long awaited Moses Melons. Hundreds come to pick their own tomatoes and peppers in late August and early September. Pick your own Pumpkins come next, and the season winds down in late October, after all the potatoes have been harvested and winter squash and pumpkins have been brought in from the fields.
What can you find at our farm?
Annuals
Beans
Bedding Plants
Cabbage
Cantaloupes
Cucumbers
Eggplant
Gourds
Greens
Hanging Plants
Kale
Lettuce
Mums
Peaches
Peas
Peppers
Potatoes
Pumpkins
Summer Squash
Sweet corn
Swiss Chard
Tomatoes
Watermelon
Other farms & markets near us...