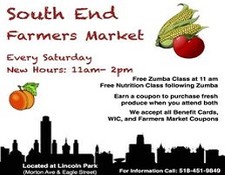 Open For Business:
July - October
Sundays 10 am-3 pm
The South End Healthy Market provides a marketplace that introduces the residents to fresh and locally grown produce, encourages a strong connections between local growers and consumers and fosters a healthy lifestyle. We focus on food that is familiar to customers, encourages them to try new things and provides the information needed to prepare healthy meals. The Market accepts WIC, SNAP and Farmers' Market coupons. Local production is supplemented with produce from the Menand's Regional Market and is priced at or below cost to encourage patronage.
What can you find at our farm?
Beans
Collard Greens
Cucumbers
Kale
Onions
Peaches
Peppers
Potatoes
Spinach
Summer Squash
Sweet corn
Swiss Chard
Tomatoes
Other farms & markets near us...