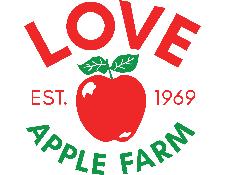 Open For Business:
OPEN DAILY 9-5PM
Upcoming Events
22


Apr
Life Among the Pandemic
CATEGORY: Community Event

OPEN FOR BUSINESS We are here to serve our community ! We are practicing social distancing and request each customer wear a face covering! Want to [...]
Serving the Hudson Valley community since 1969, Love Apple Farm has grown to a 4500 sq ft "modern day " farm stand. Offering local & regional farms to showcase inside our market. Home to our very own bakery and cafe', we are proud to serve our community and guests with only the finest NYS products
What can you find at our farm?
Annuals
Apples
Asparagus
Bacon
Baked Goods
Basil
Beans
Beef
Beets
Blackberries
Blueberries
Bouquets
Broccoli
Brussel Sprouts
Butter
Cabbage
Carrots
Cauliflower
Celery
Cheese
Cherries
Chicken
Chives
Cider Donuts
Cilantro
Collard Greens
Cream
Creamed honey
Cucumbers
Dill
Eggplant
Eggs
Garlic
Greens
Hanging Plants
Hats
Honey
Ice Cream
Jams & Jellies
Kale
Lamb
Lavender
Leeks
Lettuce
Maple Candies
Maple Cream
Maple Sugar
Maple Syrup
Milk
Mint
Mittens
Mums
Mushrooms
Mustard
Onions
Oregano
Parsley
Parsnips
Peaches
Peas
Peppers
Perennials
Pickles
Popcorn
Pork
Potatoes
Potted Plants
Pumpkins
Radishes
Raspberries
Raw honey
Rhubarb
Rosemary
Salsa
Sauces
Sausage
Scarves
Spinach
Strawberries
Summer Squash
Sweet corn
Sweet Potatoes
Thyme
Turkey
Turmeric
Veal
Yogurt