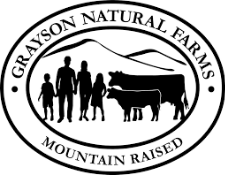 Open For Business:
Farm stand: Year round
7 days a week. Call ahead.
Farmers' Market: June-September
Poestenkill
Saturdays | 9 a.m. - 12 noon
Grayson Family Farm is a family owned, family run farm that uses sustainable agricultural practices. We have a passion for eating healthy and raising nutritious, pastured-based food. We offer grass-fed, grass finished beef, pastured pork and chicken, and eggs. Our pork, chickens and eggs are GMO free. We sell our products year-round from our farm stand (call ahead) and from the Poestenkill Farmers Market, June through September.
What can you find at our farm?