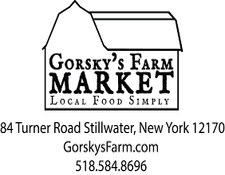 Open For Business:
Year round
Daily | 10 a.m. - 7 p.m.
Wayne and Katie Gorsky operate Gorsky's Farm in Stillwater, NY. Wayne is a 4th generation farmer and Katie is a city girl who married a farmer and decided there's no better way to live. A vast collection of products and a new market and commercial kitchen await visitors. Farm made sausages and bacon compliment a delicious menu of foods to bring home for dinner!
What can you find at our farm?
Arrangements
Bacon
Basil
Beans
Beef
Beets
Bouquets
Broccoli
Cabbage
Cauliflower
Cucumbers
Eggplant
Eggs
Garlic
Gourds
Greens
Hotdogs
Indian Corn
Lamb
Lettuce
Onions
Peaches
Peppers
Pork
Pumpkins
Rabbit
Raspberries
Rhubarb
Sausage
Spinach
Strawberries
Summer Squash
Sweet corn
Swiss Chard
Tomatoes
Turkey
Winter Squash
Other farms & markets near us...