Apple Chips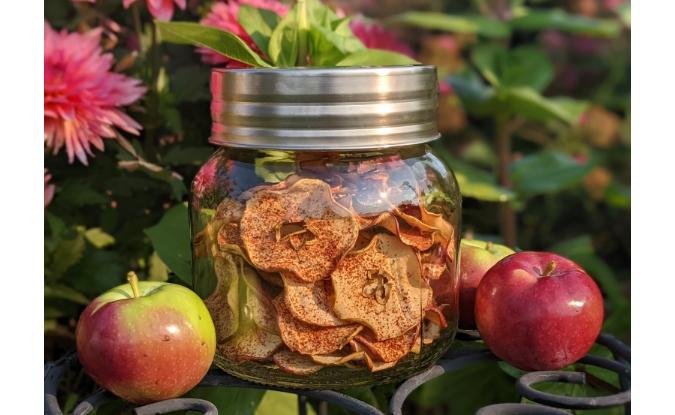 Serves:

4

Prep Time:

15 min.

Cook Time:

1 1/2 - 2 hours

Total Time:

1 3/4 - 2 1/4 hours
---
Find Farm Fresh:
APPLES
Ingredients
3 large sweet apples
¾ teaspoon ground cinnamon
Directions
Instructions
Place racks in the upper and lower thirds of oven and preheat oven to 225°F.
Line two baking sheets with parchment paper.
Wash the apples.
With apple corer, core the apples or skip step if you don't mind the core.
Using a mandolin or very sharp knife, slice apples horizontally into 1/8- inch thick rounds.
Place apple slices in a single layer on baking sheets.
Sprinkle with cinnamon.
Bake for 1 hour. Remove baking sheets and switch the pans on upper and lower oven racks. Continue baking for additional 1 to 1 ½ hours until apple slices are curled and crisp.
Store the apple chips in a sealed container at room temperature for up to 1 week.
Recommended apples: Honey Crisp, Jonagold, Granny Smith, Gala, Fuji
Additional recipes using Fruits › Apples