Apple Cranberry Spinach Salad with Goat Cheese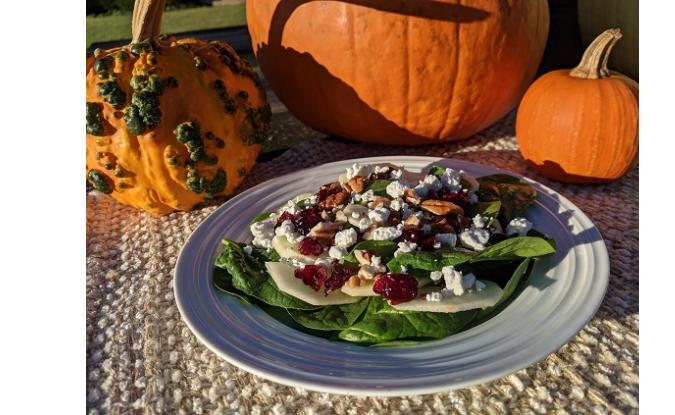 Serves:

1

Serving Size:

8

Prep Time:

15 minutes

Cook Time:

Total Time:

15 minutes
---
Find Farm Fresh:
SPINACH
Ingredients
3 tablespoons apple cider vinegar
4 teaspoons spicy brown mustard
4 teaspoons NY maple syrup
1 tablespoon minced shallot
1/2 teaspoon kosher salt
1/2 teaspoon black pepper
3 tablespoons extra-virgin olive oil
10 ounces fresh baby spinach
2 large Honeycrisp apples, thinly sliced
1/2 cup dried cranberries
1/2 cup chop toasted pecans, divided
Directions
In a small bowl, whisk together vinegar, mustard, maple syrup, shallot, salt and pepper. Slowly whisk in olive oil until blended.
In large bowl, toss together spinach, apple slices, half of pecans and dressing.
Transfer to serving platter or bowl and sprinkle with goat cheese and remaining pecans.
Serve immediately.
Additional recipes using Vegetables › Spinach