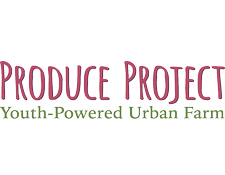 Open For Business:
The Farm Stand is open May-October every Tuesday and Thursday from 4pm-6pm at 261 8th Street, Troy, NY. The produce is also available at the Urban Grow Center Market at 594 River Street Monday-Friday from 9am-5pm.
Nestled in the heart of historic Troy, NY, The Produce Project is a unique place. Powered by youth, it engages students from Troy High School in every aspect of its farm business from seed to sale. Youth work after school and during summer break, learning important job and life skills as they earn a stipend and take fresh food home to their families. Sponsored by Capital Roots, the Produce Project is a job readiness program that has increased employment and educational opportunities for hundreds of the city's young people since its launch in 2009.
The Produce Project manages its 2.75 acres organically, while its two high tunnels provide opportunities for students to work and harvest throughout the year. The farm provides a beautiful and safe space for youth to eat well, work hard and truly examine their potential. Your purchase helps support their efforts to improve themselves and their community.
What can you find at our farm?
Asparagus
Beans
Beets
Bouquets
Broccoli
Brussel Sprouts
Cabbage
Cantaloupes
Carrots
Cauliflower
Collard Greens
Cucumbers
Eggplant
Garlic
Gourds
Greens
Kale
Leeks
Lettuce
Onions
Peaches
Peas
Peppers
Potatoes
Pumpkins
Radishes
Rhubarb
Spinach
Summer Squash
Swiss Chard
Tomatoes
Turnips
Watermelon
Winter Squash
Other farms & markets near us...