Pumpkin Cookies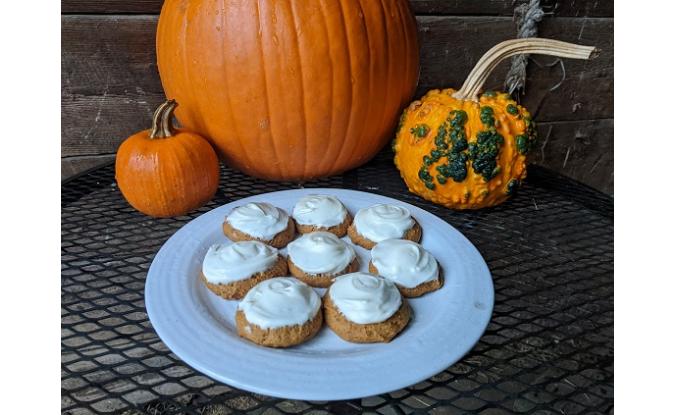 Serves:

9

Serving Size:

3 dozen

Prep Time:

20

Cook Time:

20

Total Time:

40
---
Find Farm Fresh:
PUMPKINS
Ingredients
2 ½ cups all-purpose flour
1 teaspoon baking powder
1 teaspoon baking soda
1 tablespoon pumpkin pie spice
½ teaspoon salt
½ cup butter, softened
1 c. sugar
½ cup brown sugar
1 ¼ cups fresh pumpkin puree
1 egg
1 teaspoon vanilla extract
Cream Cheese Frosting
8 ounces cream cheese, softened
2 tablespoons butter, softened
1 teaspoon vanilla extract
2 cups confectioners' sugar
Directions
Preheat oven to 350°F. Line a baking sheet with parchment paper.
In a large mixing bowl, whisk together flour, baking powder, baking soda, pumpkin pie spice and salt until combine.
In a bowl with a stand mixer, cream together the butter, sugar and brown sugar on medium high speed for 1 minute until light and fluffy. Add in the pumpkin, egg and vanilla to butter mixture and beat on medium speed until just combined. Fold in the flour and ingredients until just combined.
Drop on cookie sheet by heaping tablespoons and flatten with fingers or a spoon.
Bake for 15 to 20 minutes until the cookies are baked through.
Transfer cookies to a wire rack to cool. Frost or drizzle with cream cheese frosting.
To store, refrigerate in a sealed container for up to 3 days.
Cream Cheese Frosting
Beat cream cheese, butter and vanilla with an electric mixer on medium-high speed until smooth.
Gradually add confectioners' sugar until it's all combined and the frosting is smooth.
Additional recipes using Vegetables › Pumpkins