Grilled Asparagus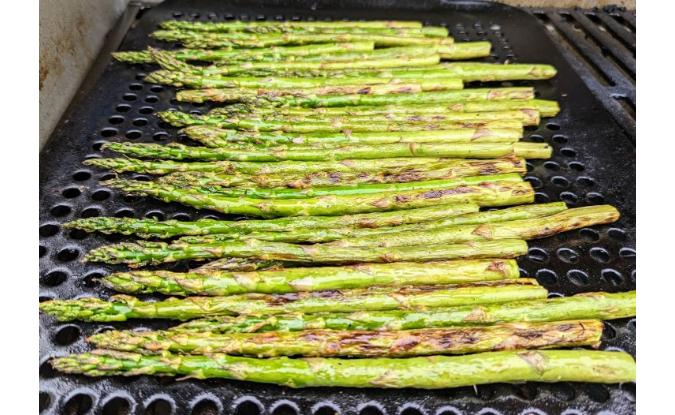 Serves:

4

Serving Size:

110 grams

Prep Time:

5 min

Cook Time:

10 min

Total Time:

15 min
---
Find Farm Fresh:
ASPARAGUS
Ingredients
1 lb. asparagus, thick spears
1 tablespoon extra-virgin olive oil
1 teaspoon kosher salt
½ teaspoon freshly ground pepper
Lemon wedges, if desired
Directions
Preheat grill to medium heat, 375 to 400°F.
Wash and dry asparagus.
Remove woody ends of asparagus by snapping off or cutting with a knife.
Place asparagus on baking sheet. Drizzle with olive oil and toss. Season with salt and pepper.
Place asparagus on grill and close grill lid. Cook for 3 to 5 minutes. Lift lid and use tongs to roll spears to evenly cook until tender, additional 3 to 5 minutes.
Transfer to plate and, if desired, drizzle with more olive oil and freshly squeezed lemon wedges.
Additional recipes using Vegetables › Asparagus