Maple Oatmeal Cookies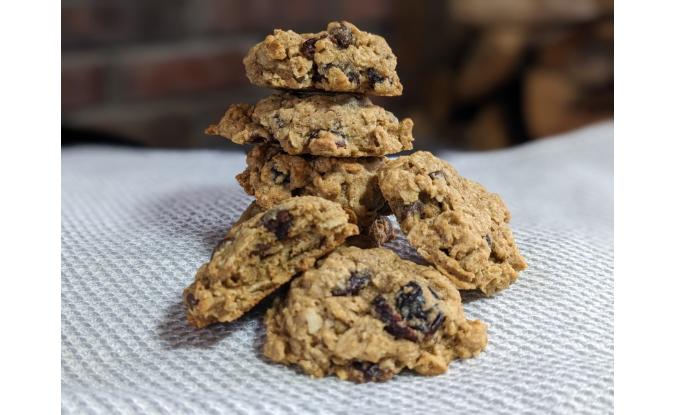 Serves:

6

Serving Size:

2 cookies

Prep Time:

15 minutes

Cook Time:

30 minutes

Total Time:

45 minutes
---
Find Farm Fresh:
MAPLE SYRUP
Ingredients
¾ cup butter, softened
¾ cup maple syrup
2 Eggs
1 teaspoon vanilla extract
1 ½ cups whole white wheat flour
1 teaspoon baking soda
1 teaspoon ground cinnamon
½ teaspoon salt
3 cups old-fashioned rolled oats (not the quick cooking kind)
1 cup chocolate chips (optional)
½ cup craisins (optional)
½ cup chopped pecans (optional)
Directions
Preheat oven to 350 degrees.
In a stand mixer with whisk attachment, whisk butter and maple syrup on medium speed until creamy. Add eggs and vanilla, and whisk until combined.
In a second bowl, combine whole white wheat flour, baking soda, cinnamon and salt; mix until uniform. Slowly pour into the butter mixture, mixing on low until combined.
Switch to the paddle attachment, or using a rubber spatula, add oats and additional add-ins (if using); fold into the dough until combined.
Drop dough by rounded tablespoonfuls onto parchment lined cookie sheets. Bake 10-12 minutes or until light golden brown.
Cool for a minute on cookie sheets. Move to wire rack to cool completely
Additional recipes using Honey & Maple Syrup › Maple Syrup