Winter Vegetable Grain Bowl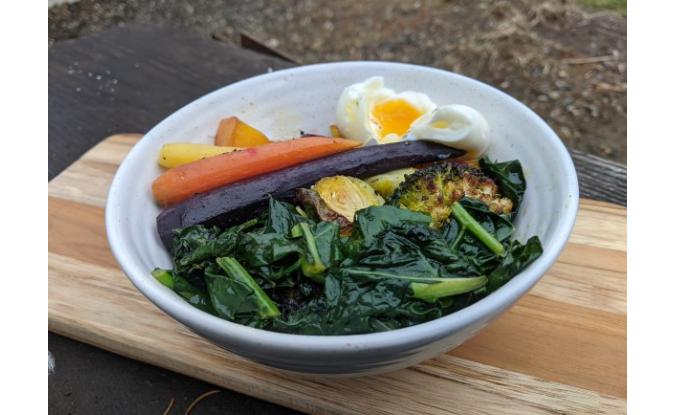 Serves:

4

Serving Size:

12 ounces

Prep Time:

10

Cook Time:

25

Total Time:

35
---
Find Farm Fresh:
SPINACH
Ingredients
For the grain:
1 cup wheat berries
½ teaspoon salt
For the vegetables:
2 cups broccoli florets
2 cups carrots, peeled and cut into 1-inch pieces
2 cups beets, peeled and cut into 1-inch pieces
2 cups brussels sprouts, trimmed and cut in half
2 cups torn dinosaur kale leaves
Olive oil
Kosher salt
Freshly ground black pepper
For serving:
4 eggs
Ponzu sauce
Directions
For the grain:
In a saucepan, combine rinsed wheat berries, 4 cups of water and salt. Bring to a rolling boil, reduce heat and cover and simmer for 1 hour or until tender. Drain and set aside to cool.
For the vegetables:
While the wheat berries are cooking, roast the vegetables. Heat oven to 450° F. Place the broccoli, carrots, beets and brussels sprouts in a single layer on 2 baking sheets. Drizzle with olive oil and sprinkle with salt and pepper. Toss the vegetables with olive oil until they are evenly coated. Roast in oven for 20-25 minutes.
To cook the kale, heat a skillet over medium heat. Drizzle olive oil and add kale. Cook until tender-crisp. Season with salt and pepper.
For serving:
Let eggs sit at room temperature. Bring a medium saucepan of water to boil. When water is boiling, reduce heat to a low simmer. Using a slotted spoon, gently drop in the eggs. Cook eggs at a high simmer for 6 minutes and 30 seconds. Transfer the eggs to a bowl of ice water and chill until the eggs are warm but cool enough to handle. Peel eggs and set aside.
Place bulgur (cooked wheat berries) into serving bowls. Top with desired vegetables and drizzle with ponzu sauce. Cut in half and place on top of each bowl. Serve and enjoy!
Additional recipes using Vegetables › Spinach