Ballston Spa Farmers' Market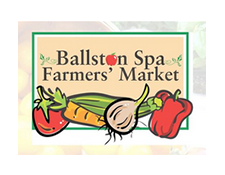 Open For Business:
June 11 - September
Saturdays | 9 a.m. - 1 p.m.
Thursdays | 3 p.m. - 6 p.m.
The Ballston Spa Farmers' Market features 100 percent locally grown produce from a variety of vendors selling fresh fruits and vegetables, baked goods, prepared foods, handcrafted items and certified fair trade products. The Saturday Market features local musicians and children's activities. The Thursday Market is followed by the Concert in the Park series from 6 p.m. - 8 p.m. Music and activities are free. The market is sponsored by the Ballston Spa Business and Professional Association.
What can you find at our farm?
Annuals
Apples
Arrangements
Basil
Beans
Bedding Plants
Beets
Blueberries
Broccoli
Cabbage
Cucumbers
Eggplant
Garlic
Greens
Hanging Plants
Honey
Indian Corn
Kale
Lettuce
Maple Syrup
Mums
Onions
Peaches
Peas
Peppers
Plums
Potatoes
Pumpkins
Radishes
Raspberries
Spinach
Strawberries
Summer Squash
Sweet corn
Swiss Chard
Tomatoes
Winter Squash
Other farms & markets near us...