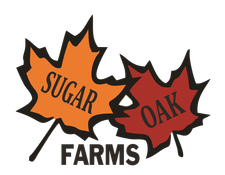 Open For Business:
Thursdays  |  10 a.m. - 1 p.m.  |  7 p.m. - 9 p.m. and by appointment
Sugar Oak Farms is a small, family owned-and-operated maple sugarhouse located in Malta, NY that offers quality maple products to the surrounding area, as well as across the globe. We started out in 2008 with a make-shift evaporator but have since upgraded to the equipment of the highest quality, thus resulting in our high quality, award-winning syrup and maple confections. The maple season typically runs from late February until the end of March, but it varies every year due to the weather. Our sap is sourced from our trees in both Saratoga and Washington Counties, where we have over 30 acres of land. We are proud members of the New York State Maple Producers Association and the New York Farm Bureau.
What can you find at our farm?
Honey
Maple Candies
Maple Cream
Maple Sugar
Maple Syrup
Other farms & markets near us...