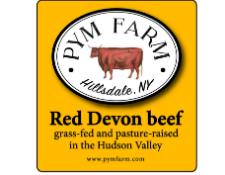 Open For Business:
Please visit us at the Copake Hillsdale Farmers' Market Saturdays 9am-1pm. Sales at the farm are by appointment only.
Pym Farm raises 100% grass-fed, pasture-raised Red Devon Cattle, producing delicious beef with exceptional taste and flavor. We're dedicated to producing top quality beef from contented, healthy animals, pasture-raised according to organic methods, without hormones, non-therapeutic antibiotics or steroids. Our heritage Red Devon cattle live on grass all year long. From spring through early winter we practice rotational grazing, moving the animals frequently between pastures. This results in higher quality, more nutritious, sweeter grass – and beef our customers love. We're now taking orders for quarters for 2022 – a great way to stock your freezer!
What can you find at our farm?
Other farms & markets near us...
9140 Rt. 22
Roeliff Jansen Park
Hillsdale, NY 12529

192 Orchard Lane
Hillsdale, NY 12529