Rathbun's Maple Sugar House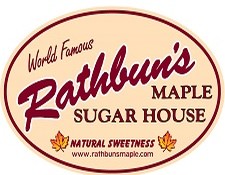 Open For Business:
Year round
Sat. & Sun. | 7 a.m - 1 p.m.
The Rathbun family has been producing maple syrup for over four decades now. Bill Rathbun started making maple syrup with his sons and now his sons are teaching their sons and daughters the sugaring process. The only real difference between now and then is the modern equipment designed to cut down on fuel consumption.
We still tap maple trees and hang sap buckets just as our forefathers did. Over twenty years ago, when we built our new sugar house, we also started serving homemade pancakes, French toast and waffles served with our own pure maple syrup.
During "Sugaring-time" in early spring, come and watch us boil maple sap into syrup. Bring your own container to fill with maple syrup, try some old-fashioned sugar on snow, or maybe take a sleigh ride around our farmland. Have a breakfast or maple dessert outside on our deck.
What can you find at our farm?