Helderberg 1839 Maple & Vine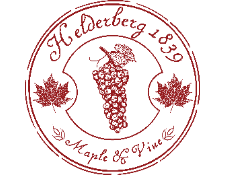 Open For Business:
Open year-round, except holidays. Please call in advance.
Helderberg 1839 Maple & Vine is a small boutique farm in the Helderberg Hilltown of Knox, New York. Owners Ernie & Vicki Cupernall are proud to produce high-quality 100 percent pure maple syrup from local sugar maple trees.
The Cupernalls moved to the rural town of Knox, New York in 2012. The Town of Knox is one of the Helderberg Hilltowns in Albany County and is primarily a farming community. The property was an old dairy farm and the farmhouse was built in 1839. The farming adventure began with grape vines, fruit trees, and blueberries, hence Helderberg 1839 Maple & Vine was born.
The maple experiment began when Ernie tapped the six sugar maples that line the front of the property and used a large pot over a portable propane stove to produce the first syrup. That lead to more taps, more buckets, and a bigger pot until clearly there was a need for a proper sugar shack and an actual evaporator, and so we grew. Family and friends have joined in to help set lines, tap trees, and boil the syrup.
The Cupernall family now taps trees in three different locations in Knox and is committed to providing the best possible maple products for you and your family.
What can you find at our farm?
Maple Candies
Maple Cream
Maple Sugar
Other farms & markets near us...

450 Long Road
East Berne, NY 12059

12 Williamson Rd.
Berne, NY 12023