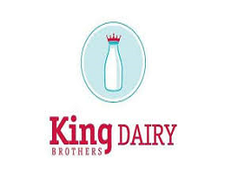 Open For Business:
We are open Monday - Friday 9 am-6 pm and Saturday 9 am - 5pm.
Go to our website for store hour updates.
King Brothers Dairy is a retail milk business bottling milk on the farm and selling directly through home delivery, on farm sales, food service and retail markets. The farm store features our own milk bottled in glass and in plastic as well as our own ice cream. We also sell cuts of farm raised meat and local farm products.
What can you find at our farm?
Bacon
Beef
Butter
Cheese
Chicken
Eggs
Honey
Ice Cream
Maple Syrup
Milk
Pork
Sausage
Turkey
Yogurt
Other farms & markets near us...