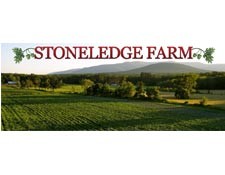 Stoneledge Farm is a 200 acre, certified organic farm located in the foothills of the Northern Catskills, Greene County, New York. The original farmstead and greenhouses are located on 50 acres of mostly wooded land supported by a stone ledge running just below the soil surface. The farm fields and main barns are located nearby on an additional 150 acres of prime agricultural land adjacent to the Catskill Creek.
Stoneledge Farm has been a Community Supported Agriculture, CSA farm since 1996. Our family worked to build our farm and the farm grew with the support of the CSA membership.
What can you find at our farm?
Apples
Basil
Beans
Beets
Blueberries
Broccoli
Brussel Sprouts
Cabbage
Cauliflower
Celery
Collard Greens
Cucumbers
Eggplant
Garlic
Grapes
Greens
Honey
Kale
Leeks
Lettuce
Maple Syrup
Onions
Peaches
Peas
Peppers
Plums
Potatoes
Radishes
Rhubarb
Spinach
Summer Squash
Sweet Potatoes
Swiss Chard
Tomatoes
Turnips
Winter Squash
Other farms & markets near us...

488 Mountain Road
Earlton, NY 12058

1235 High Hill Rd.
Earlton, NY 12058