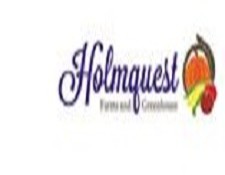 Open For Business:
Mon-Sat | 8 a.m. - 5:30 p.m.
Sundays | 8 a.m. - 5 p.m.
A family farm for four generations, Holmquest Farm has a passion for the farm and greenhouse and believe in the importance of knowing where your food comes from. A huge selection of veggies and fruits are available throughout the season. Your family will love the healthy meals you'll make with the best produce harvested from our very own fields right here in Columbia County. Your garden will look amazing with the plants we offer at our greenhouse each Spring.
Service with a smile from our friendly staff and prices that will keep your budget happy.
What can you find at our farm?
Annuals
Apples
Beans
Beets
Blackberries
Broccoli
Cabbage
Cantaloupes
Cauliflower
Celery
Collard Greens
Cucumbers
Eggplant
Garlic
Grapes
Greenhouse Plants
Hanging Plants
Lettuce
Onions
Peaches
Peas
Peppers
Perennials
Potatoes
Potted Plants
Pumpkins
Radishes
Raspberries
Rhubarb
Spinach
Strawberries
Summer Squash
Sweet corn
Swiss Chard
Tomatoes
Watermelon
Winter Squash
Other farms & markets near us...