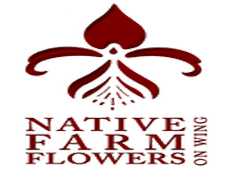 Open For Business:
You can find our flowers at Four Seasons Natural Foods, on Henry Street in Downtown Saratoga or Healthy Living in Wilton, NY or you can visit us at the Troy Farmers' Market every Saturday from 9 a.m. – 2 p.m.
Native Farm Flowers is a 5 acre farm dedicated to growing beautiful perennial and annual flowers naturally and with the utmost care. We grow our flowers naturally using proven, age-old farming practices. Our farming practices keep the environment and humans healthy and free of harmful chemicals.
Owned and operated for more than 29 years by Barbara Jefts, Native farm is located in the foothills of the Adirondack Mountains, four short miles from Downtown Saratoga. On the farm, we offer seasonal products such as fresh and dried wreaths & arrangements, oil cloth and varying educational experiences for all ages. We encourage you to stop by the farm and visit our show room! -open by appointment.
What can you find at our farm?
Other farms & markets near us...