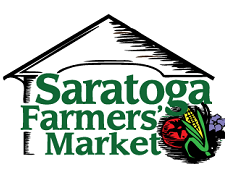 Open For Business:
Saratoga Farmers' Market - Summer
(May-Oct, Wednesdays 3-6 pm, Saturdays 9 am- 1 pm)
High Rock Park
112 High Rock Ave., Saratoga Springs, NY 12866
Saratoga Farmers' Market - Winter
(Nov-April, Saturdays 9:30 am-1:30 pm)
Wilton Mall (DMV/former Bon-Ton entrance)
3065 NY-50, Saratoga Springs, NY 12866
In 1978, the Saratoga Farmers Market held their first summertime market in a Saratoga Springs parking lot: several trucks, good produce, a handful of farmers and some customers. Nowadays, they share the bounty at a twice-weekly summer/fall market in Saratoga's High Rock Park. From May through October, hundreds of people shop with over 50 vendors under three soaring pavilions and down the lawn. From November to April, our Saratoga market flourishes inside the Lincoln Baths building at Saratoga Spa State Park, providing wintertime access to farm-fresh products from 40+ vendors, and a pleasant community gathering spot during the colder months. In addition to Saratoga Springs, we run summer/fall markets in Clifton Park.
Local Products from Four Counties: The Saratoga Farmers' Market Association runs local "producer-only" markets. This standard requires that vendors to grow or produce their goods in Saratoga, Schenectady, Rensselaer, and Washington counties and ensures that products are fresh and unique, not purchased for re-sale. In this way, sales provide economic, ecological, and social support to local communities. (The Board occasionally approves vendors from outside our core counties who bring products not readily available at the market.)
Discover Something New: Our shoppers choose from dozens of types of vegetables, fresh fruit, honey, baked goods, pasture-raised meat and poultry, cheese, fish and seafood, jams, wine, yogurt and milk, flowers and herbs, complemented by crafters and on-site prepared food. Newer vendors selling items such as pickles, crackers, and hard cider are quickly gathering a following. Many of our products are Certified Naturally Grown or USDA Organic. All our vendors eat and use their products in their own homes and take great pride in their quality.
Want to try something different or need a recipe tip? Just ask. As producers, it is a privilege to build connections with customers who value our knowledge, crops, and products. Every market day offers a chance for vital learning and exchanges between consumer and producer.
What can you find at our farm?
Annuals
Apples
Arrangements
Asparagus
Bacon
Baked Goods
Basil
Beans
Bedding Plants
Beef
Beer
Beets
Blackberries
Blankets
Blueberries
Bouquets
Broccoli
Brussel Sprouts
Butter
Cabbage
Cantaloupes
Carrots
Cauliflower
Celery
Cheese
Chicken
Chives
Christmas Trees
Christmas Wreaths
Chutney
Cilantro
Collard Greens
Cream
Creamed honey
Cucumbers
Dill
Dog Treats
Duck
Eggplant
Eggs
Escarole
Garlic
Gin
Goat
Gourds
Grapes
Greenhouse Plants
Greens
Hanging Plants
Hats
Honey
Hotdogs
Ice Cream
Indian Corn
Jams & Jellies
Kale
Lamb
Lavender
Leeks
Lettuce
Maple Candies
Maple Cream
Maple Sugar
Maple Syrup
Mead
Milk
Mint
Moonshine
Mums
Mushrooms
Nursery plants
Onions
Oregano
Parsley
Parsnips
Peaches
Peas
Peppers
Perennials
Pickles
Plums
Poinsettias
Popcorn
Pork
Potatoes
Potted Plants
Pumpkins
Rabbit
Radishes
Raspberries
Raw honey
Rhubarb
Rosemary
Roses
Salsa
Sauces
Sausage
Scarves
Shrubs
Spinach
Strawberries
Summer Squash
Sweet corn
Sweet Potatoes
Swiss Chard
Thyme
Tomatoes
Trees
Turkey
Turnips
Vegetable Plants
Vodka
Watermelon
Whiskey
Wine
Winter Squash
Yogurt
Other farms & markets near us...